The Shamrocks
Chapter 2 (1964 - 66)
by Gary Cowtan
The Shamrocks were booked to play for a month starting on October 1st 1964 at the New Eden Saloon in West Berlin, playing a 20-minute set, 7 nights a week in the midnight show. That was highly atypical for a beat group in German clubs in the '60s. The New Eden Saloon was a posh night club for the rich and famous and the only one of its kind where we ever played - over the years, I think, a total of 3 months altogether. The reason for our early flight from London was that our manager's German aunt had told us that we would have a hard act to follow: the Lords, who were the so-called "German Beatles", at our first German venue! We wanted to know what we were up against, but, after finally hearing them on one of their last nights, we realized that we needn't have worried, after all. We laughed all the way back to our hotel! As you may have read in the Beatles' accounts, playing at the so-called beat clubs in Germany (also in Austria and Switzerland) was gruelling work, meaning 4-6 45-minute sets with 15-minute breaks, 7 days a week for a month, more often than not with no day off! The next venue for the Shamrocks was either the Savoy Club in Hanover (Hannover to the Germans) or the Party Club in Braunschweig (Brunswick to you) or vice-versa in November and December 1964. The two clubs were affiliated and I think we drove back and forth between them a couple of times.
On January 1st 1965, after 3 months plus a few days, Barrie Millership left the Shamrocks and Dave Allen from Torquay joined us on keys and vocals. I returned to the bass, but remained lead singer, but with Dave Allen also singing lead vocals of a few songs which he added to our repertoire. His previous band, the Aardvarks, who had shared the bill with us at the Savoy in Hanover, was splitting up. The drummer, Steve Upton, then became one of the founding members of Wishbone Ash.
The first half of 1965 was spent very much on the road, playing one-nighters all over Germany from Kiel in the north, where we supported Gene Vincent at the Star Palast for a week, to Munich in the south. On February 1st our single "Shame, Shame, Shame" was released in Germany by Ariola (later BMG) and on March 15th our album "The Shamrocks" followed. In June we headlined a package tour managed by Wolfgang "Bubi" Heilemannn. In early July we returned to the I.o.W. for a break, but not without playing on Shanklin Pier on the 19th and 26th., also at Kimbell's in Southsea on the 25th.
August-December 1965: dozens more one-nighters in Germany, ending the year with 2 weeks at the Liverpool Club in Düsseldorf.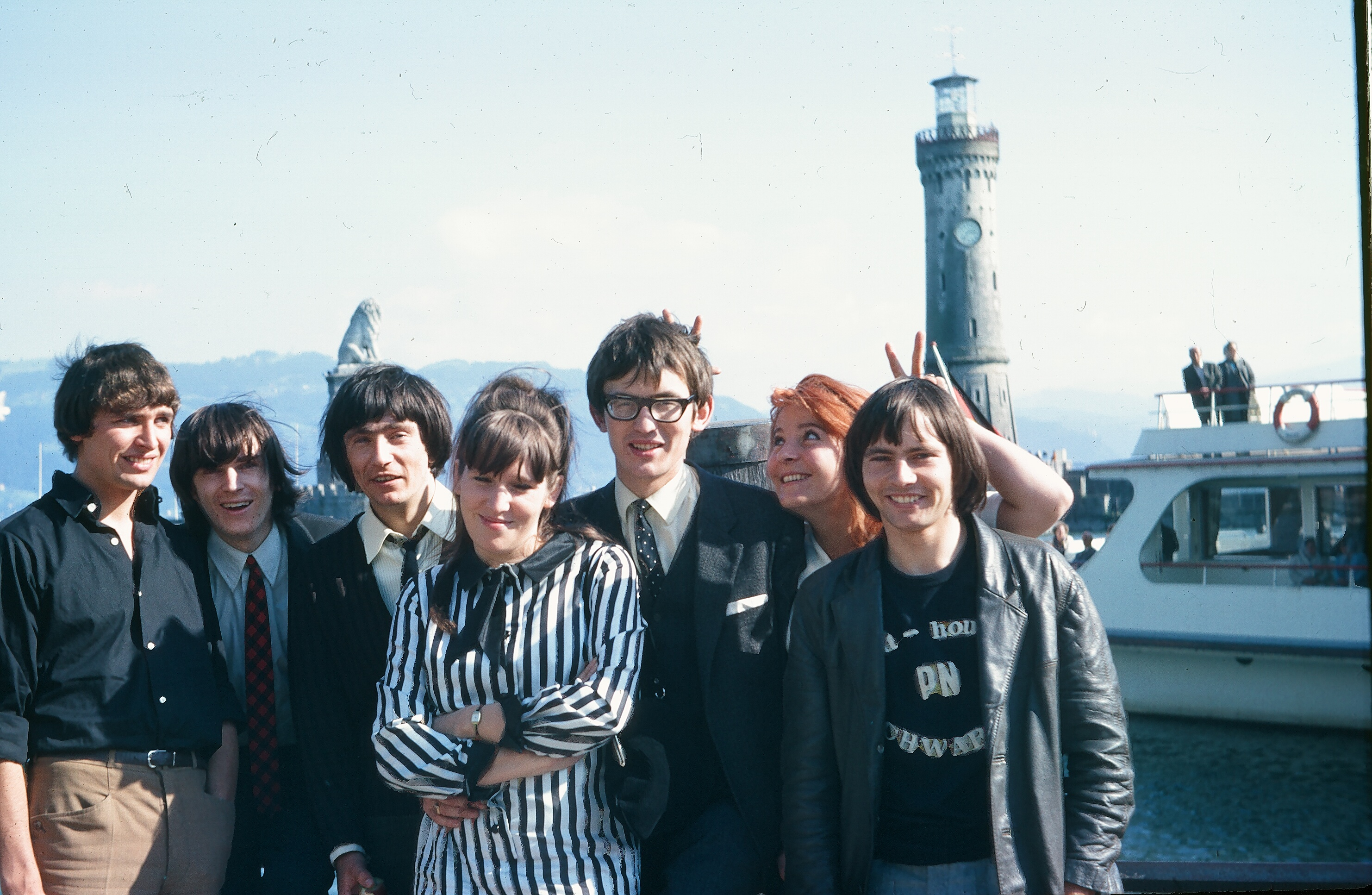 1966: my 1966 diary doesn't tell me much about the first half of the year. All I know is that we were mostly on the road in Germany, including a second package tour managed by Wolfgang "Bubi" Heilemannn. Some readers might remember him from "ABBA: the Movie"
(pictured L-R . Volker ?(rh. gtr., die Hexer); Hanno Bruhn (singer/bassist, the Mozarts); Bern Roberts (l. gtr., the Shamrocks); Mrs. Heilemann (I forget her first name); Wolfgang "Bubi" Heilemann (tour manager); Daisy Winter (solo artist); Dave Eaglen (rh. gtr., the Shamrocks)
In July we were once again playing for the whole month at the New Eden Saloon in Berlin when one day, Rolf Eden asked us if we would back Kookie Byrnes of the US TV series "77 Sunset Strip", also popular in Germany, for one night. Kookie was embarking on a German tour as a singer! The first show was scheduled for July 14th at the New Eden Saloon in Berlin and Kookie was going to cover current Beat hits, so he was later only too glad to be backed by a young, authentic, British Beat Band! (This was the time of the "British Invasion" of the US pop music scene.) A 20-minute set was planned, including "Route 66", "Wild Thing" and other songs that we knew, with afternoon rehearsals on July 11th, 13th and 14th. On July 11th we arrived at the club early. After a while, the door opened and in walked my later mentor Peter Schirmann, followed by Kookie Byrnes. Peter was the MD (musical director) for Kookie's entire German tour and we later became firm friends. He was already - and remained for 57 years until his passing in 2021 - one of Germany's top arrangers and MDs, who taught me almost everything I know about orchestration. It was with his help that I later became a session musician and arranger/MD. Introductions were made and Kookie was more nervous than we were! I think his U.S. management had talked him into this, as he had no singing experience whatsoever - which he freely admitted! He was relieved to hear that we knew all of his chosen songs, if only by ear, but they were mostly simple, 3-chord tunes that we could play straight away. He asked me to sing everything with him off-mic. and stand half behind his left shoulder, for orientation. That way, he could glance over his shoulder, see when I opened my mouth and know that it was his cue! He was very modest and grateful for our help during the rehearsals. July 14th 1966 turned out to be an incredibly busy day for us. We had been filming at the Berlin Olympic Stadium in the morning, rehearsing with Kookie Byrnes in the afternoon and playing at the New Eden Saloon the whole evening, including backing Kookie. His performance went reasonably well, but, the following day, Berlin's leading newspaper, the B.Z. wrote (translated): "Without the Shamrocks, Kookie Byrnes would have never got through his set."