The Shamrocks
Chapter 1 (1964)
by Gary Cowtan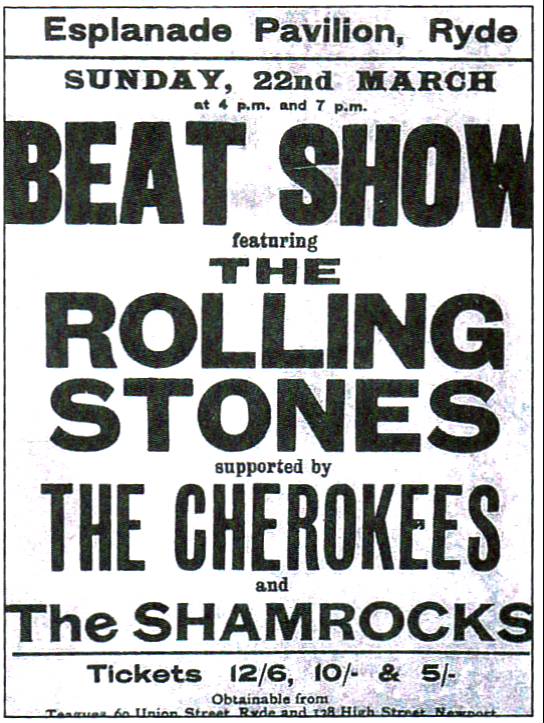 By the time the Shamrocks, together with the Cherokees, supported the Rolling Stones at Ryde Pavilion on March 22nd. 1964, we had already given up our daytime jobs and, apart from playing twice a week at the Hotel Ryde Castle, were commuting between the I.o.W. and the mainland, where we had two regular weekly gigs, among other, individual ones. We played venues from Bedford to Land's End and as far north as Northampton, thanks to our new agency, Avenue Artists in Southampton, which also had a band called Dave Dee and the Bostons on its books (later known as Dave Dee, Dozy, Beaky, Mick and Tich). I can understand why they changed the name. We sometimes used to pass each other in the New Forest, while they were returning from the venue to which we were heading! We used to wave, sound our vans' horns and shout our greetings to each other.
One of our regular weekly gigs at the time was somewhere in Sussex (Hastings?) and the other was at Kimbell's in Southsea. This place had a regular R&B night on Sundays at the time, with Manfred Mann (from Gosport) as the original house band, plus well-known special guests. When Manfred and co. started having hit records, they moved on to bigger things and the Shamrocks then followed them as the house band at Kimbell's on Sunday nights. There were often special guests that we supported, such as Alexis Korner's Blues Incorporated, Georgie Fame and the Blue Flames, Zoot Money and the Big Roll Band and the Yardbirds, then with Eric Clapton. After our sound checks, I had a chat with Eric, who was already an impressive guitarist, but didn't sing at all! I remember we talked about tax among other things and Eric told me that records
we buy as musicians are tax-deductible. I was amazed! Twice, Manfred Mann made a return visit as special guests. At that time, Paul Jones was still their singer and also a very good blues harmonica player. I was just beginning to play harmonica at the time and Paul gave me some useful tips after the sound checks which I never forgot, such as using throat control to "bend" notes. For certain songs, whenever we needed the harmonica, Dave Eaglen, normally on second guitar, would take over on bass, which, in the long run, was not an ideal solution.That is how Barrie Millership, later the same year, came to be offered the job as bassist, after a few unsatisfactory weeks with a bassist from Portsmouth who shall remain nameless. I was, in the meantime, first and foremost, the lead singer.
Before the line-up changed and only about 6 weeks after the concert at Ryde Pavilion, we supported the Rolling Stones again, this time at the Savoy ballroom in Southsea, where we had already played a few times. It must have been in April or May 1964. The Stones played "It's All Over Now" during their set that night, although the single wasn't released until June 26th. that year. I remember the great thing about the Savoy was that it had, like the ground floor at Kimbell's (I think both venues had the same ownership), but much bigger, two completely independent stages at 90°, but both well away from one another and from the corners of the hall, so that there was no unpleasant bass build-up. This made life far easier when two bands were booked, which was usually the case there. Both bands could set up everything and leave it set up for the whole evening. It also enabled one band to take over the moment the other finished its set: non-stop live music. It was at this venue that the way was paved for our future career in Germany (more about that later).
I remember a gig in 1964 at Bedford Corn Exchange, supporting the Nashville Teens, who were currently high in the UK singles chart with "Tobacco Road". During the afternoon, we did the last sound check, as we were the opening band. The Nashville Teens had finished theirs and were relaxing opposite the stage, when suddenly, their bassist Pete Shannon came up to me and said, "Your bass (then, a Hofner President) doesn't sound too good. Would you like to borrow mine (an Epiphone Rivoli)?!" I was surprised by this generous offer and gratefully accepted it, for the moment forgetting that I was not only the Shamrocks' bassist, but also the band's lead singer. If my Hofner bass had any advantage at all, it was its light weight, so when I sang with it, it didn't restrict my breathing too much. The Epiphone, however, was by no means light! After playing that and singing, I suddenly realized why (wealthy) Paul McCartney played a (cheap) Hofner violin bass: that was even lighter, with a smaller body than the President bass and did not weigh at all on the lungs whilst singing (I later bought one in Germany). We then continued our sound check with me playing the Epiphone, when Pete Shannon appeared again and said "It still doesn't sound quite right. Would you like to use my amp?" I can't remember exactly what he had, but it certainly sounded a lot better than my Selmer 50W head and two home-made cabinets with Wharfedale 15" speakers. Soon after that, the same year, we signed an endorsement deal with Jennings and I then used a Vox AC50 head with a Foundation (18") cab. As the size of our German venues later increased, this setup was replaced by an AC100 head with two Foundation cabs.
Back to 1964: on the strength of a demo disc, the Shamrocks became one of the bands chosen to compete in the South-of-England heat of the TV series "Ready, Steady, Win", held at the Savoy in Southsea. The jury consisted of Shadows ex-bassist Jet Harris and his then girlfriend, singer Billie Davies and guess what - we won the heat!
Shortly after this, one afternoon, back on the Isle of Wight, we were setting up for an evening gig at the Hotel Ryde Castle, when Jet Harris suddenly strolled in. He asked if he could play a set with us later - on guitar, but didn't have a guitar with him! This meant that either Bern Roberts or Dave Eaglen had to lend him one and they had only each brought one Gretsch Tennessean with them. I think, in the end, it was Dave Eaglen who was delegated to sit in the audience (or at the bar) during Jet's proposed set, using Dave's guitar. Actually, Bern's sounded better, but we didn't tell Jet that! At the time, I wondered if this was about to become an audition as Jet Harris's future backing band. We had been hoping that our recent regional success in "Ready, Steady, Win" could lead to more than that. I remembered having seen posters not too long ago, advertising "Jet Harris and The Jet Blacks" at the Trouville in Sandown. I wondered what had happened to that band...
We were about to find out! A rehearsal of guitar instrumentals began, but Jet didn't seem too interested in singing, although he had sung on some of his records. When he was satisfied with what he heard, we agreed that he would play his set with us at around 9:30 that evening. We then adjourned at opening time, as the place began to fill up and the bar opened - which is where Jet would remain for the rest of the evening! By the time 9:30 p.m. came around, he was in no condition to stand, never mind play... So he didn't - and Dave Eaglen's Gretsch Tennessean guitar stayed in safe hands!
Having won our regional heat of "Ready, Steady, Win", we were invited to the final at the Rediffusion TV studios in London, with a jury including Brian Epstein. There, we played an original called "Mr. Hard Luck", the intro of which began with my harmonica. Normally, after two bars, the rest of the band would come in, but the studio audience was making so much noise that Bern, Dave and Pete couldn't hear where I was - and there were no stage monitor speakers! I frantically started stamping on the floor with my right lower leg as a metronome, knowing that they could at least see, if not hear it, as I was standing at the front. Somehow, they then managed to follow me after four bars, but we couldn't hear ourselves properly during the whole song. In the meantime, I have read on the Internet that TV sound engineers then were completely inexperienced at mixing live bands, because other TV music shows all involved miming! I can't remember where we finished after the voting, but I know we didn't win. Nevertheless, an opportunity was waiting for us in the audience...
Unbeknown to us, a German film producer called Gunter Schlesinger was waiting to make us an offer to play for a month in West Berlin's top night club and to record an album for German release. Why a film producer? Apart from earning a commission from the night club and "producing" the album, he also intended to make a film with us (which turned out to be awful)! Whilst in the studio, recording the album, we realized that he had absolutely no experience in music production. He simply financed the album by paying the studio bill, i.e. 2 days at what is now Hansa Studio 2 - for the entire album! He then licensed the album to Ariola (later BMG) - and ran off to the Netherlands with our record and film royalties! We haven't seen him since. Years later, the (short) film suddenly showed up in German cinemas as opener for "Cream - the Last Concert". I hoped nobody would recognise me...